UnionPay International and Russia NSPK jointly issue the UnionPay - MIR Debit Card
UnionPay International and NSPK signed an agreement in Shanghai to jointly promote the participating banks of NSPK to issue UnionPay-MIR debit cards so as to provide new payment options for the local residents` daily life and global travels, and to better support Sino-Russian communication.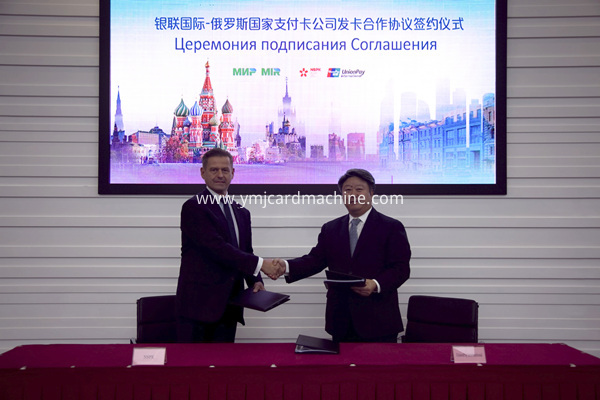 The Central Bank of the Russian Federation established NSPK in 2014 and the local payment card brand, Mir. At present, NSPK has 130 participating banks in Russia, and the acceptance network of MIR cards is expanding. Last September, UnionPay International and NSPK reached an agreement to promote the banks in the system of NSPK to issue UnionPay-Mir debit cards. The landing of this card issuance project means that the UnionPay network is recognized by the national switch network of an overseas market. UnionPay International opens its network to enable the two payment systems compliment each other advantages and to enable UnionPay-Mir debit cardholders to use cards in a much more broader scope, greatly enhancing cardholders` payment experiences.
This cooperation between UnionPay International and NSPK has multiple meanings: First, the UnionPay-MIR cards can be used in the networks of both parties, which will substantially expand the card-using scope of Russian residents.
Second, it will promote the mainstream institutions in Russia to issue UnionPay cards on large scale, and thus accelerate the localization of UnionPay in the market. Third, it will promote financial cooperation between China and Russia and help realize the interconnection of the two countries` payment industry.
The UnionPay-MIR dual brand card can be processed through the MIR network in Russia and through the UnionPay network outside Russia, realizing service complement. In the future, we and NSPK will explore the cooperation in innovative payment with Russia banks, to offer more UnionPay products in the market so as to provide more secure and convenient payment solutions for the local residents, to facilitate personnel exchanges between China and Russia, and to support the implementation of the Belt and Road initiative.
Now, over 300,000 merchants and 40,000 ATMs in Russia accept UnionPay cards, covering the airports, restaurants, hotels, supermarkets and drug stores in Moscow and St. Petersburg.
In addition, 10 local mainstream institutions have issued over 500,000 UnionPay cards which can be used in about 60 countries and regions including Russia and China. These cards are gaining popularity among the Russian residents.
http://unionpayintl.com/en/mediaCenter/newsCenter/companyNews/2662.shtml